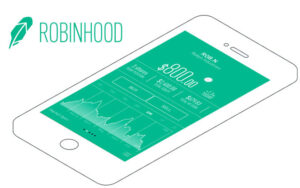 Robinhood is a mobile application for Android and Apple devices that allows you to buy and trade stocks completely free!
Signup for a new account and get 1 free stock worth up to $150!
Join using this link to get the free stock: http://share.robinhood.com/roberts1139.
After you click the link it should say there is a free stock waiting for you and look similar to this:

Some companies with Ethical Business Practices to Consider Investing In
Salesforce –  Donated millions of dollars toward education grants and technology, and even discounts its services to non-profit organizations. The company also encourages its employees to get into the action by giving them six days off per year to do any type of charitable work they choose. Saleforce.com frequently ranks highly on lists of companies offering the best salaries and hourly rates for employees.
Starbucks – The company is often quick to fix its environmental problems, from greatly reducing the water it uses for its dipper well to using recycled paper in its cups. The company also encourages consumers to be environmentally conscious by offering a 10-cent discount to those who bring their own reusuable cups and giving free coffee grounds to consumers who want to use them for compost.
Ultimate Software – Every year the company rises in the ranks as one of the best companies to work for because of perks like the 100% free health care it offers its employees, including complete coverage for all their dependents. The company also gives its employees an all-expenses paid vacation every two years. Ultimate Software is enjoys a great deal of diversity in its hiring practices — at least 46% of its staff are women, and 33% are minorities.
NuStar Energy – Treatment of its employees regularly lands it on lists of the best companies to work for. The company pays 100% of its workers' health insurance premium, and even matches 401(k) contributions up to 6%. In addition, the company has a strict no-layoffs policy, and lends its employees the corporate jet in times of crisis.
Intel –  Through the Intel Foundation, the company hosts the Intel Science Talent Search and the international Science and Engineering Fair to help encourage STEM (science, technology, engineering, and mathematics) education for young people. Intel is also interested in making these areas more diverse; the company has many donation funds and programs to encourage girls and underprivileged minorities to study in these fields
Microsoft – The tech company and its employees donate over $1 billion yearly to charities and non-profit organizations.  Through the TEALS program, Microsoft employees are encouraged to volunteer at local schools to instruct students in computer science, in the hopes that it will inspire them to enter the technology industry. It's only natural that Microsoft employees would be generous people; in addition to being among the highest paid employees in America, they also enjoy a plethora of perks, including 100% coverage on their health care premiums.
Google – the company has donated over $1 billion to renewable energy projects, and has decreased its own footprint by using energy efficient buildings and public transportation. The company is also a staunch advocate of free speech, which can be observed from its frequent conflicts with the Chinese government. Google is also an open supporter of gay rights. Yet all this pales in comparison to Google's status as a paragon for employee benefits. Just to name a few, Google employees have access to free health care and treatment from on-site doctors, free legal advice with discounted legal services, a fully stock snack pantry and onsite cafeteria
Why I picked Robinhood over Acorn
I had an account with Acorn Investment App, but closed it in favor of Robinhood. The reason I closed my Acorn account is because they don't let you pick investments yourself. Acorn makes you invest in their portfolios, which include companies I don't want to support. I personally only want to invest in companies that treat their workers well and have strong environmental records. One good thing about Acorn is that the portfolios are automatically diversified, which helps protect your investment. With Robinhood you buy shares directly, for their actual price. Some stocks cost $100's of dollars per share, the share price is the minimum investment. With Acorn you can invest any amount of money you want, and don't need to worry about any minimum investment level.
Facebook Comments